Last Neko
Last Neko lives!


Who am I?
Hello, Franck here! I think this is time for a devlog, since a lot of things are happening in a short amount of time. So, here is the postmortem of Last Neko, since the game is not anymore in Early Access and available for everyone.
I will first take about my personal situation, you'll understand why. What should I say? I made this game for free. So, yeah, you know what people say about free stuff. But nope, not because this is free doesn't mean you're the product. In fact, I am currently unemployed. I looked for a job for whole years, until that question popped into my mind : why should I look for a job... If I can do the job myself?
Every child has its dream : become the next football star, become an astronaut... And there were me : "I want to make video games". I never gave up this damn dream, and here I come. I learned, step by step. Music, pixel art, game design. I made two complete games. Okay, about my first game, "Neko Ex Machina", I don't want to talk a lot about it, since I'm not really happy with this game. I made Neko Ex Machina with RPG Maker MV. Aside from the bad reputation of this software, I realized that the learning curve of RPG Maker MV is painfully slow.
I switched to Unity. The transition was painful. While everything is done for you with RPG Maker... On the other side, when you work with Unity, you have to code everything from zero. But the result is more than satisfying.
May 9th 2019. I was curious, so I browsed the "Game Jam" section on itch. The "cat-boy/girl" jam caught my attention. Then... I had a flash into my head: "Hey what if I try to develop a danmaku with Unity, now I get the ropes of this engine?". Two seconds later: "Challenge accepted".
I came up with this prototype: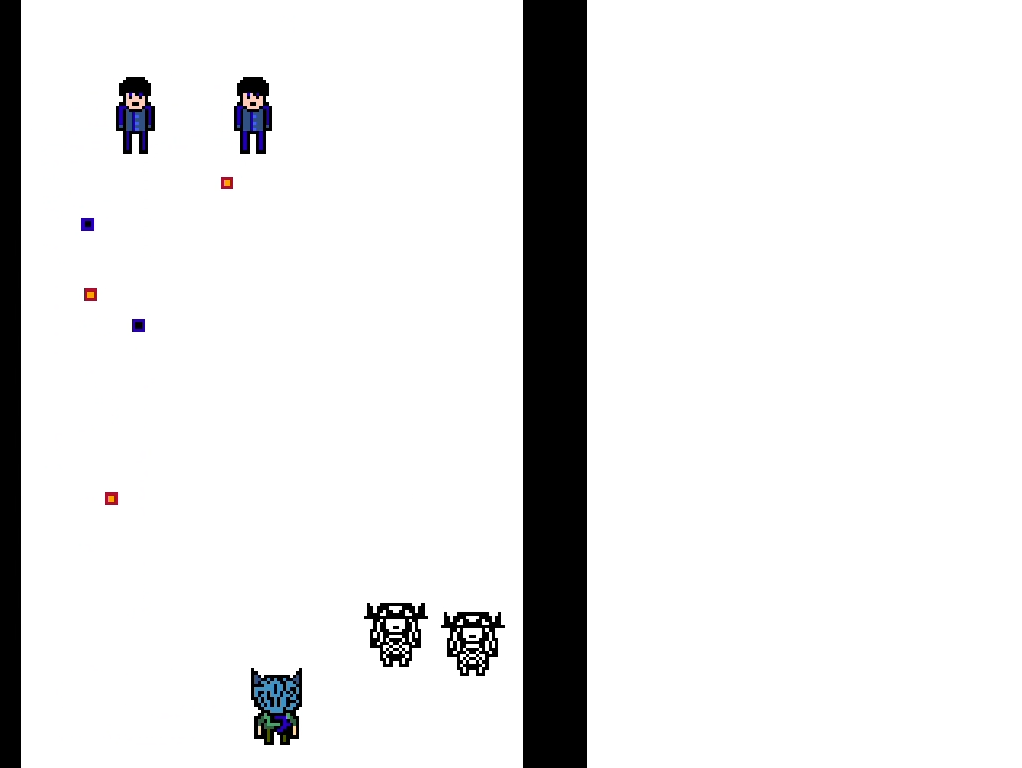 May 9th
Why "Last Neko" ?
So, if I made this game for free, this is mostly in order to have something to show. If I get hired by a bigger video game company, at least I would be able to say "I made this game in two weeks time".
Two weeks, that's short. But trust me, these two weeks, from May 9th to May 23rd, were more than intense. It started with swallowing a lot of trigonometry. Yes, when you code a shoot'em up, you're forced to swallow trigonometry, in order to make the homing bullets target their foe. Then, I started to design. To make pixel art. It all started with a 1bit project, until I realized it won't be possible to make a Touhou-like in 1-bit (how to differenciate bullets with bonus drops ?). This was only two weeks, but I was waiting for these two magical weeks since whole years. Making music, coding, developing like a madman.
And sometimes this is only about pain. You find a "small bug". Then you realize that this "small bug" is not that small and forces you to revamp your whole code. That's what a developer's life is about. But this is a dream. By making video games, we are the proof science and art are not incompatible. Because this is what I find beautiful with video games development : you take art and science and mix them into a cauldron to craft something greater!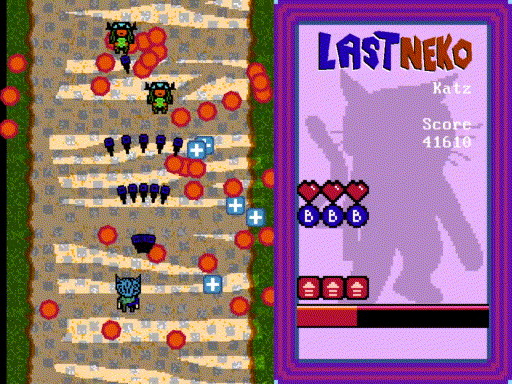 This is the level 1!
And now, what?
I know Last Neko might receive some updates. But more than Last Neko, I know I have a lot of stuff to learn, to practice and to master. After that, I'm only 30, I'm still relatively young. This is possible I create a "micro-entreprise" in order to continue this project, then maybe get in touch with the right persons. Good new, an artist is interested to work together with me! Until then, I worked all alone. I won't be able to be alone for a too long time, else I will literally collapse under the mountain of work. Even for a small project like Last Neko, I was working non-stop. And my breaks time were just strategic breaks. Nevermind, I'm not afraid of the future, and I swear, I'll never stop to contribute making the video game alive!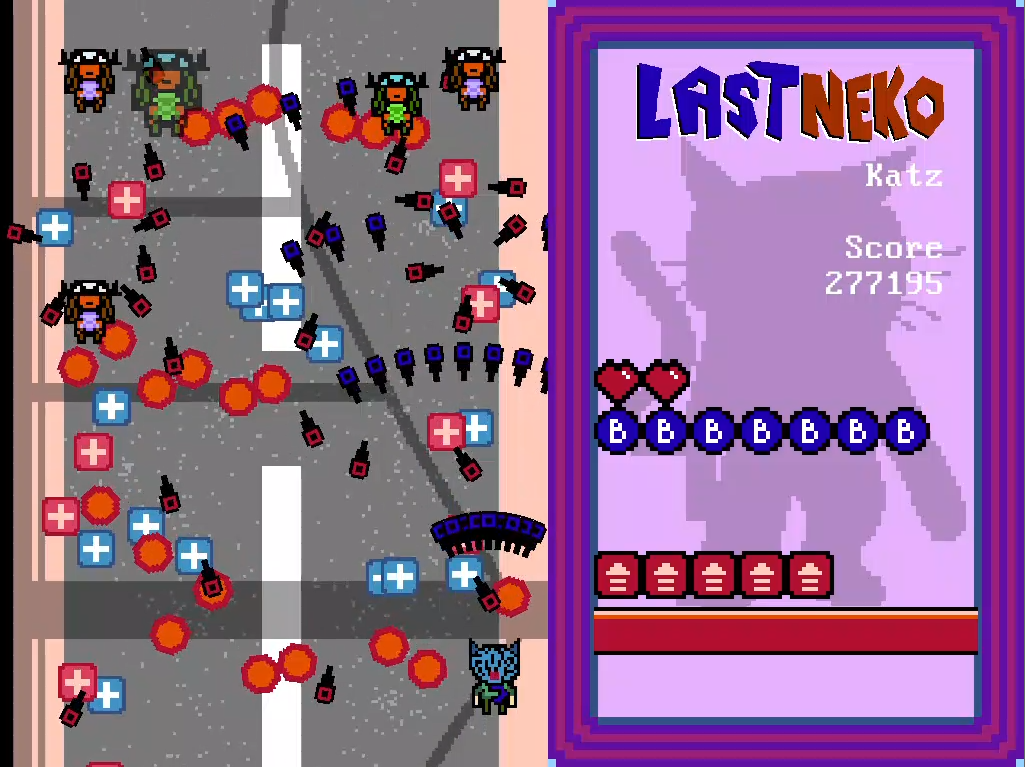 Cheers!
Franck alias Frelon-K.
Files
Last Neko for Windows
29 MB
Last Neko for Linux
30 MB
Last Neko - Original SoundTrack (WAV format).zip
175 MB
May 21, 2019