Last Neko
Last Neko: Things to work on for the 2.0
---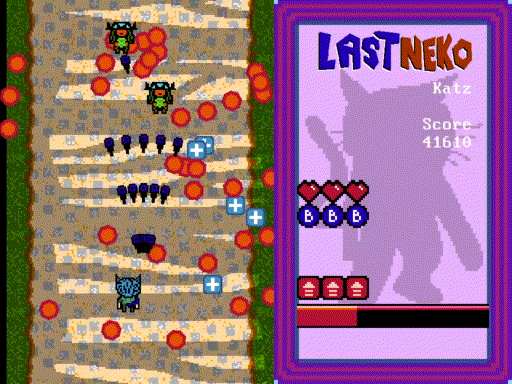 Hello!
The cat-boy/girl jam hosted by Overdose is now over! Even if we were only 4 to submit something, it really kicked my ass, as said before! Now the jam is over, I will polish some details. The goal is to make a better game and remove the small details that bothers both me and the eventual players.
So this devlog was just to inform you that Last Neko is not in its final version. Here is what I have to do for the next version:
Small stuff
Nerf the level 3... Again!
This has been reported that things work randomly with a XBox360 controller. I must investigate.
Suggestion : another layer of background for levels 4, 5 and 6.
Suggestion : new sprites, or new frames for existing sprites.
Rework some design in the UI.
Make a Mac version.
Notice to explain some stuff you shouldn't be supposed to guess, like:
You earn a free bomb in the beginning of each level.
Each time you lose a life, you also earn a bomb.
You earn an extra life once you reached some score milestones.
Big stuff
Adjustable difficulty (this will take a while).
Cheers! ;)