Neko Ex Machina 2 - DEMO
A downloadable game for Windows and Linux
The game is actually under active development and the final version won't be free! I spend a lot of time in this project, any support is highly appreciated!

This is highly recommended to play the game from the itch app, so it stays up-to-date!

Neko Ex Machina 2 is the second JRPG I am making with RPG Maker. The first chapter has been made in 2018 with the experience I had then, that means I had a lot to learn. I still have a lot to learn, but I put my heart and my soul into my games, so I hope you'll enjoy these!
I also add a lot of functionnalities. In this demo, you'll have a glimpse about the mechanics that will be added later. Battles are not the only way to earn experience, so you can go peace and love and earn your experience!
I broke the limits of RPG Maker MV by using both Luna Engine MV and some plugins from YanFly. You'll be able to craft and upgrade items and gather materials in some random fights! Then, you know how things work! Bring your materials to a blacksmith and craft your materials!
Since I love to do the job like no one does the job, you will be able to sell your unused or crafted weapons and armors in the game shops for not only money, but also reputation points! Actually, in the demo, there is a way to spend these reputation points.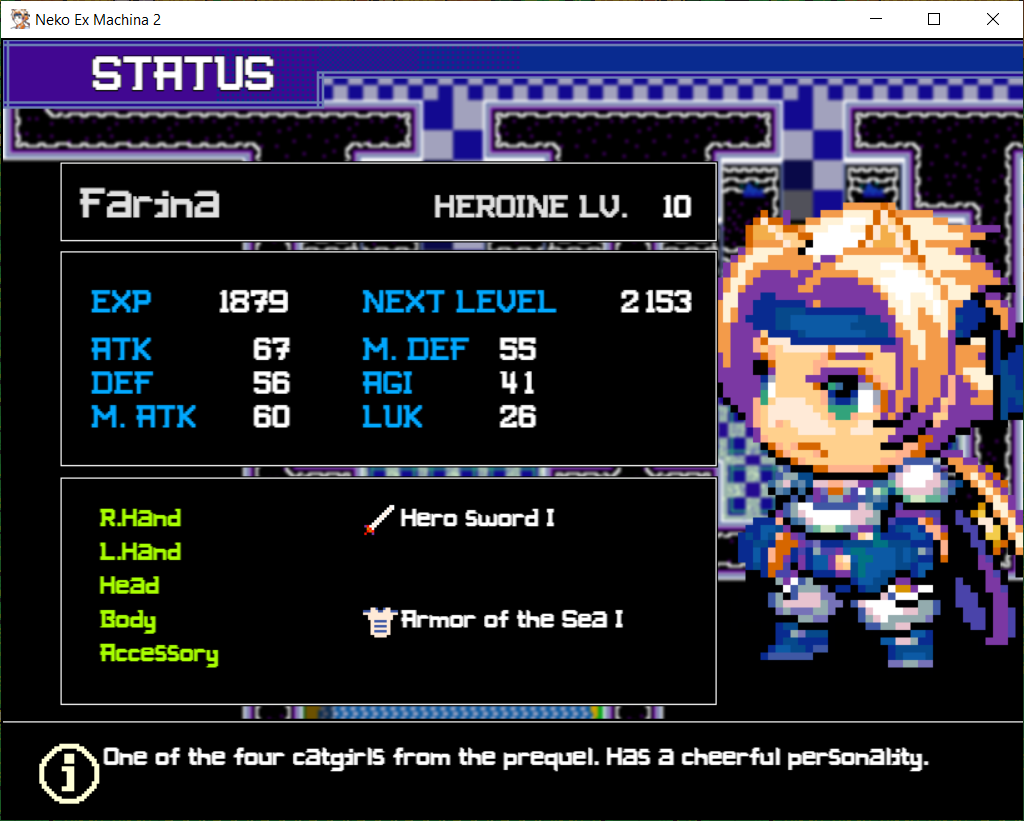 No random fights! Random fights are boring! Your enemies appears on the map, yay!
Skill trees! This is still in development, but one of your characters will be able to use a skill tree!
You will have many stuff to discover and to reveal, more than the first Neko Ex Machina! I really hope you'll enjoy the game!
+++ CREDITS !! +++
Directed by Franck Poulhon
I have to thank, in no particular order:
Dr.Yami - Luna Engine
Visustella - Luna Engine
Archeya - Luna Engine
YanFly
Kadokawa - RPG Maker MV
FL Studio
Aseprite
Ableton
Cubase
Audacity
+++ CREDITS ENDS HERE +++
The demo version actually lasts around 2 hours and it will be upgraded furthermore. If you find any bugs (even a typo), please let me know, meow!
Assets (design, storyline and musics) made by me.

Franck for Frelon-K Games

Download
Click download now to get access to the following files:
neko-ex-machina-2-demo-win.zip
120 MB
neko-ex-machina-2-demo-linux.zip
164 MB